Lightweight Stone Alternative
RockStep is the smart alternative to natural stone steps. Known for their strength, durability and beautiful representation of real stone, RockSteps are a great solution for any landscape project.
RockSteps are light enough that one or two people can position and move as needed. Made of high strength concrete around a light-weight low-density core, RockSteps are strong and durable at 1/4th the weight of natural stone.
RockStep manufactured landscaping steps, landings and boulders are lightweight so there is no need for heavy machinery. This eliminates damage to existing landscaping while saving you time and money on labor cost, making them an affordable alternative to using natural stone steps and boulders. It just takes a few simple steps to install your RockStep landscaping project.
See our Installation Page for detailed step-by-step instructions, materials needed, how to properly measure a slope, calculate the number of steps needed, prepare a gravel base and understand tread and required step overlap for installing RockSteps.
RockSteps In Hardscape
Read about RockSteps in Hardscape Magazine's Dec./Jan. Issue. See how they used RockSteps on a shoreline project with limited access and steep slope.
Hometime Feature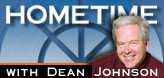 Watch HOMETIME and Dean Johnson install RockStep landings and steps on a landscaping project with a steep, hard to access slope.
The lightweight steps made installation simple, quick and easy while giving the same beauty and feel of natural stone steps.